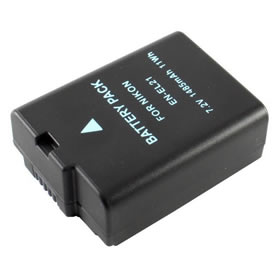 Nikon 1 V2 Battery
Nikon 1 V2 Battery - EN-EL21 Batteries for Nikon 1 V2 Digital Cameras

1 Year Warranty! 25% OFF!
Battery Code:
Nikon 1 V2
Chemistry:
Li-ion
Volt:
7.2V
Capacity:
1485mAh
Accessories:
1 V2 Battery Charger
Description:
For long trips or vacations, make sure to take an extra battery along for the ride! This Nikon 1 V2 camera battery conveniently shows you how much time is remaining until you need to recharge. This Nikon Lithium-ion battery powers your Nikon 1 V2 digital camera so you can shoot longer. Make sure your Nikon 1 V2 digital camera powered up for your next shoot with the Nikon 1 V2 rechargeable battery pack.
Always be prepared for that special moment. There's no need to feel powerless when you've got an extra rechargeable battery pack for your Nikon 1 V2 digital camera. Designed to fit your Nikon 1 V2 camera, a spare battery pack is perfect for travel or extended photo sessions. Ensure you always have plenty of shooting power with the 1 V2 Lithium-ion rechargeable battery pack.

Features:
--Compact, lightweight Lithium-ion Rechargeable battery.
--Double your shooting time with a spare battery for the Nikon 1 V2.
--No memory effect. Chargeable even if it has not been used up yet.
--100% compatible with OEM battery.
Buy Nikon 1 V2 Battery and Nikon 1 V2 Charger Together Save US $3 !

+

=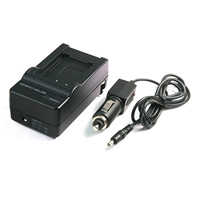 Nikon 1 V2 Battery Charger
Volt:
Input AC 100V-240V, Output DC 4.2V/8.4V,600mAh
Charger Type:
Li-ion Battery Charger
(Car Charger Adapter Included)
Your Price:
Battery Code:
Compatible With:
Secure & Guarantee
Shopping from us is safe and secure. None of our customers have ever reported fraudulent use of their credit cards as a result of shopping with us. You can be assured that the information you give us is confidential. We do not sell, rent or share information of our customers with other parties.